That house on Christmas Street tour continues
It's time to see the world again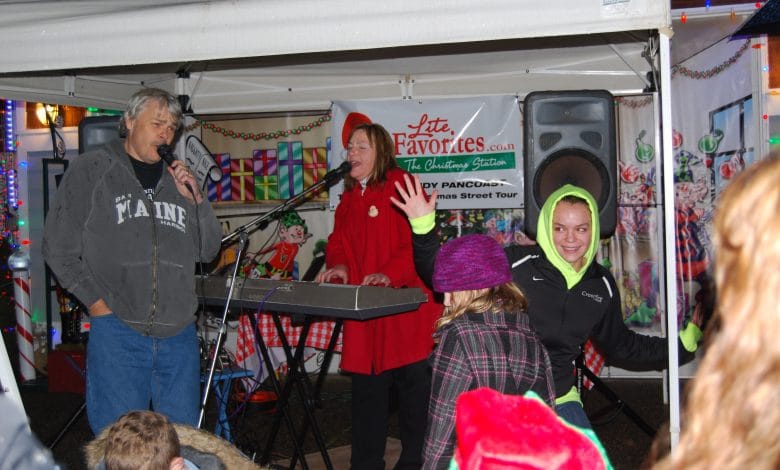 Many of you PlanetChristmas folks know the story of how my little song, "The House on Christmas Street," was discovered by a decorator online in 2006 and quickly caught on. Well, in 2010 I got the idea that it would be fun to go around the United States and visit some of the many decorators who "put me on the map" by using my music in their displays. I thought a tour would be fun where I would show up and do a concert on the decorator's lawn or in their street or driveway with their display as the backdrop, and they would collect for the charity of their choice at the concert. It took a lot of work, but the decorators were enthusiastic and the first "The House on Christmas Street Charity Tour" became "The House on Christmas International Charity Tour" when Paul Toole invited me to England to perform at his display. What a terrific time I had abroad and across the United States.
Everywhere I went I met the nicest people! It was so much fun that I did it again in 2012 and 2014. Thousands of people have been entertained and thousands of dollars in cash and goods have been collected for charities. I am forever indebted to the wonderful decorators who have welcomed me into their lives for just a little while.
This year (2017) I will be embarking on the fourth "The House on Christmas Street Charity Tour" right after Thanksgiving. My travels will take me from my New Hampshire home all the way to Washington, down to Texas and Florida, and back home again. I'm really looking forward to seeing decorators whose houses I've performed at before, and meeting new friends as well. I hope you'll visit my website at www.judypancoast.com to see my tour itinerary and maybe plan to come see me if I'm in your neck of the woods. In the meantime, here are some photos I want to share of the wonderful times we've had on past tours! Here's hoping I see you at your house!
This article was included in the November 2017 issue of PlanetChristmas Magazine.
By Judy Pancoast