Indoor decorating
Christmas villages tell a story
It's getting really close to setup time. I've been working on my indoor display since the middle of September. The trees are up and in place, but not completely decorated yet. I'll be totally done inside the house the day before Halloween. I'm certainly keeping my fingers crossed.
The next project is to set up my Christmas village. I move it around and change things up every year because that's what makes it fun. I know you've checked out on PlanetChristmas Richard Holdman's picture of his father's Christmas village around the tree and Chris Berglund's new layout he built for his mother's collection. They're both totally different, equally awesome and a great source for ideas. Good job guys.
There are so many ways to use village pieces in your grand display. I can remember as a child how my grandmother had a cardboard Christmas village under her tree. It was my favorite decoration. She had the metal figures, skating pond, mini-trees, animals and everything that went with it. It was gorgeous, but my aunt threw it all away when they were cleaning out grandma's house. I had some old family pictures and was able to recreate about 75% of grandma's village with a bit of help from eBay. I even found the figures and animals in their original Sears and Roebucks box.
Of course, Christmas villages have come a long way since my childhood. Now K-Mart, Wal-Mart and Lowes sell village pieces. Target carries the "It's a Wonderful Life" series and Sears has the "Christmas Story" series. Then there are the great selections from Lemax and Department 56. I went a different route with my Christmas village.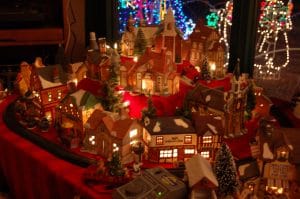 First I recreated my grandmother's cardboard set from the early 50's. While we were stationed in Germany for thirteen years, I picked up many European style village pieces including a Christmas castle, cottages, stables, etc. Upon returning to the states in 1984 I set my mind to creating a village that was going to show my children their family background. The hunt began. Keep in mind locating and buying the right pieces is part of the fun of creating a Christmas village.
My paternal grandfathers were a Mississippi river boat captain and a country doctor who ran a hospital in a four-story family home. I had been to the hospital so it was fairly easy to find a village piece that looked very much like it. The riverboat was also an easy find. My maternal grandfathers were a blacksmith and a farmer. I managed to find a farmhouse and barn as well as a blacksmith shop complete with a blacksmith at the forge. My maternal grandmother ran a grocery store and her family name was Walton. I was lucky enough to locate a WALTON grocery store and it was quickly added to my village. Grandparents were taken care of. Check.
My mother was a schoolteacher so a village schoolhouse was easy to find since I remember visiting one several times when I was small. My father traveled the world working for the Corps of Engineers building dams, missile silos and air bases. That one was pretty tough but I managed to track down pieces that reminded me of the areas we had visited during the summers where he worked. Parents were taken care of. Check.
My husband is a musician. I was lucky enough to find a Music Emporium that matched the grocery store and the blacksmith. Spouse was taken care of. Check.
I'm hoping you can see a method to my madness. As our family grows we add pieces that represent something important in each of their lives. Buy what you love and make it personal like I do. Just like decorating your home, there is no right way or wrong way to do your Christmas village. It is yours so if you want it to be gingerbread style, those are out there. If you want to recreate the North Pole, go for it. Department 56 has an incredible North Pole series. There are so many possibilities available.
You can create smaller vignettes and have multiple villages. Put the villages on the tops of cabinets, furniture or under the tree. I've seen the over-the-toppers create huge table-scapes while others build special shelving just to hold everything. The possibilities really are endless.
If you already have a village, enjoy setting it up and let the family get involved. The little ones love adding their special touches. If you haven't created a Christmas village yet, this is the perfect time to start. It will add so much beauty and enjoyment to your holidays and it could become a family tradition that can be passed down to the children and grandchildren. Enjoy the fun of finding just the right pieces and building the history of your village. When you're finally done, spend some quiet time reflecting on the past and share stories with the young ones.
What's the bottom line when it comes to Christmas villages? Yours can be anything you want. Imagination is the only limitation. Enjoy and get ready for a great Christmas.
This article was included in the November 2009 issue of PlanetChristmas Magazine.
By Marilyn Caron