Santaland
An over-the-top indoor holiday display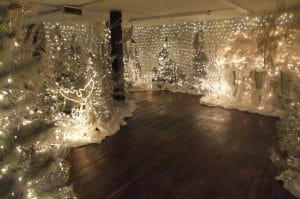 Santaland opened for the first time 25 years ago in Madison, MN, a small rural town in west central Minnesota. Inclement weather moved the original Santaland from the frigid cold to the cozy 7,000 square foot second floor in the Heather Nursery & Floral building located on Main Street. Hundreds of volunteer hours and more than $15,000 of in-kind donations have allowed a dedicated group of local and metro elves to create an indoor holiday display that rivals the real North Pole.
Santa was speechless when he first saw his new throne. Surrounded by hundreds of packages and more than 60,000 lights, all of his guests are sure to be entranced by the holiday spirit. Kids are greeted by the display as soon as they enter the store. Santa's throne is located on the first level so kids of all ages can enjoy his company. After telling Santa their wish list, guests are escorted to the staircase where they ascend to the second floor. The renovated Santaland consists of a North Pole, Bakery, Elves' Workshop, Train Depot (with a 12' x 18' model train), Santa's Den and a Naughty and Nice Wall where you get to write your name on the wall and check Naughty or Nice. The final part of the display includes a Reindeer Pen and a Post Office, where anyone can write their letters to Santa and mail them from the magical North Pole Mailbox.
Santaland is free to the public and is presented by the Madison Area Chamber of Commerce. It's located at Heather Nursery & Floral, 309 6th Avenue, Madison. MN 56256. (320) 598-7337. You can find us on Facebook at Santaland of Madison Minnesota for more information and a compilation of before, during and completed photos of Santaland.
This article was included in the December 2010 issue of PlanetChristmas Magazine.
By Santaland